Fall is our absolute favorite time of year for family pictures. And can you blame us?! Look at the gorgeous foliage that surrounds this lovely family. This is what living in New England is all about! Over the next couple of weeks we will be flooding the blog with amazing NE Fall Family Photography! And why not start it out with this good looking family of three…
We have had the pleasure of working with this family before and it was so great to see them again during our favorite season. This little handsome man is quite the charmer! Picking flowers for Mama and belly laughs with Dada, he had a blast with us! Lynn is amazing at capturing the love that family members share. From little smiles to big kisses, she captures it all! And how gorgeous are their outfits?! Loving Mama's necklace, accessories are EVERYTHING!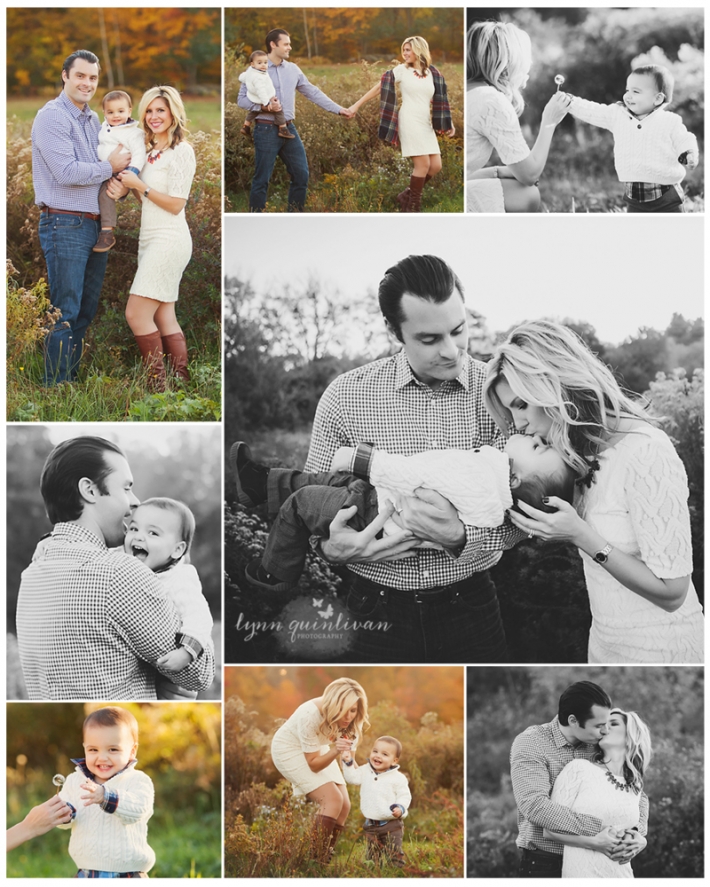 We spend time scoping out the perfect location for these types of sessions by looking for lots of light and beautiful and bright foliage. Some times the most beautiful places are where you would least except them to be. But honestly, no matter the location, the imagery is amazing because Lynn loves LOVE. We pride ourselves in being calm and comforting during sessions to make sure that everyone feels their best. Natural, raw emotions make for the most beautiful artwork! Like these incredible photos of this couple's love for each other and their little stud muffin!
Massachusetts Outdoor Family Photographer
Lynn Quinlivan is a talented natural light photographer who loves NE Fall Family Photography. New England is gorgeous this time of year, why not use it as glorious backdrop for some fun family photos?! At this time we are no longer scheduling Fall family sessions in 2015 but let this be a beautiful reminder for you to schedule something next year! It is definitely our most popular time of year and we know why! Sessions like this one are scheduled an hour or two before sunset, which gets earlier and earlier the closer to winter we get but it is well worth it. The way the setting sun hits the colorful trees is breathtaking! And it's not just the background that is beautiful, it's also our clients too! We would love to hear from newly interested clients about future sessions. Contact us soon if you are interested in hearing more information on the different types of sessions that we offer. Click here to view our growing family portfolio.