We had a gorgeous mom-to-be in the studio this month and WOW! Is she beautiful or what?! Talk about glowing! Being pregnant is such a special time; scheduling a Massachusetts Maternity Photography session is the perfect way to make these memories last! The miracle of pregnancy is such an incredible experience it definitely should be remembered! Not to mention the fact that moms-to-be are known for their amazing curves, flowing hair and perfectly glowing skin! I mean, her baby bump is just PERFECTION!
Okay. Let's be real! I do not remember looking like this while I was pregnant! My memories of being pregnant are being bloated, sweaty and completely unattractive. I truly wish I had scheduled a session like this to remember the true beauty of it all! It's important to treat yourself to something special, especially before the baby comes! And what a beautiful piece of artwork to show how your amazing family began! I am in LOVE with these photos! She is simply stunning!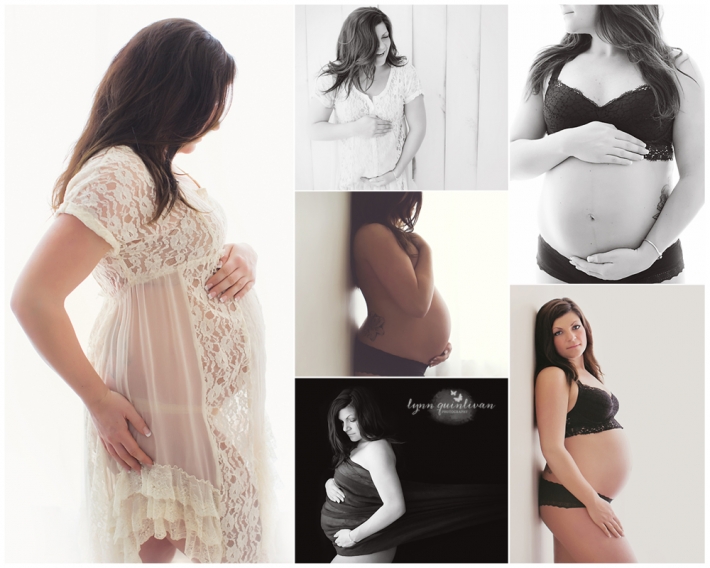 We even snuck in a few silly #bump selfie poses! Too funny! We wish her lots of love and luck with her delivery and can't wait to see her in a couple months for her newborn session!


Massachusetts Maternity Photography
Lynn Quinlivan is a premier natural light photographer with overflowing portfolio including Massachusetts Maternity Photography. Her studio, located in the heart of Millbury, is glowing with gorgeous natural light.  Lynn and her team are very skilled in creating the perfect poses that are comfortable, yet flattering. Her style is light, ethereal, and timeless. Lynn chose photography as a career because of her passion for capturing true love and emotion. There is no time in your life that is more full of love and emotion than when you are pregnant! Lynn and her team offer both Signature and Petite Maternity sessions, which can be scheduled indoors and/or outdoors. New to Lynn Quinlivan Photography is also the option to book Newborn/Maternity packages with special discounted rates! Click here to see more information, as well as take a look at our maternity gallery. And don't forget to contact us if you are expecting and would like to book a Massachusetts maternity photography session!