This handsome little one year old and his gorgeous mom came in for some fun MA First Year Photography recently. How cute are their matching red shoes?! Converse for him and heels for Mama! Love this pop of red!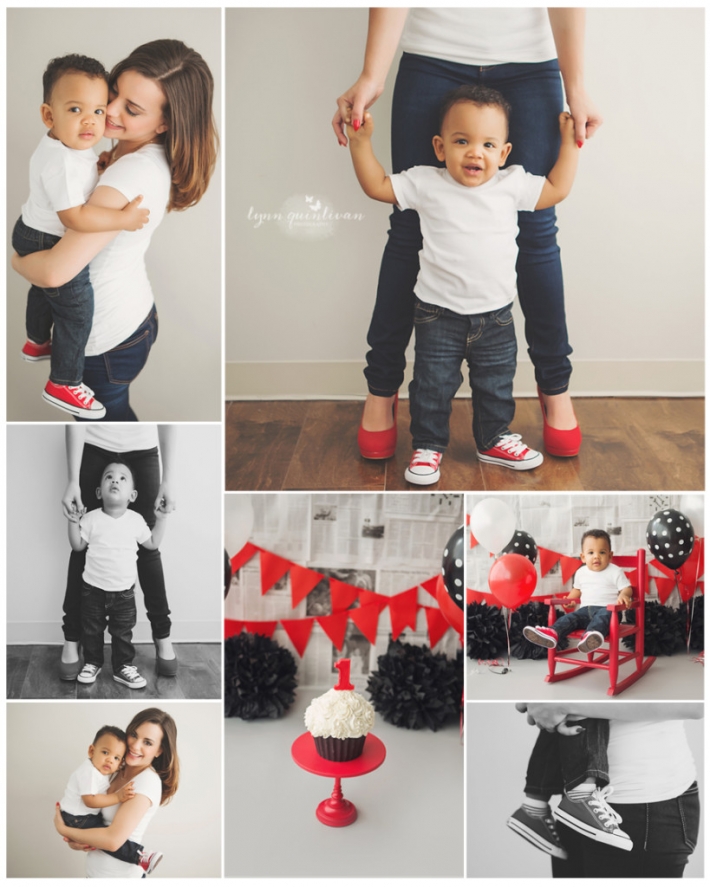 At Lynn Quinlivan Photography, we enjoy making your visions come to life! We love creating custom backdrops for birthday cake smash sessions! What is black, white and red with cake all over?! Our studio on this special day! Turning the studio into a unique birthday set is so much fun! And even more fun is watching the birthday boy dive into his cake! By the end of the session, there was cake everywhere! But it was so cute… and delicious!
After getting all sugared up and sticky it was time for bath! This little guy got al washed up, sailor style! With a nautical style bath he looked as cute as ever! Mommy couldn't wait to dry him off and snuggle up for some hugs and kisses! So sweet! Such a great way to end a special day.
MA First Year Photography
Lynn Quinlivan Photography is an adorable natural light studio located in Millbury. MA First Year Photography sessions are completed with a creative and timeless style. Each session is entirely customized to the client's liking. At Lynn Quinlivan, we love be creating ideas with you or surprising you with something special. From different themes to bold color schemes, we love it all! Sessions like this one include a personalized background as well as a beautiful and tasty cake, ready to be demolished by your little ones. And for the record, cake smash sessions are not just for one year olds! We can create these fun set ups for any age. Does one of of your children have a milestone birthday coming up? Let's celebrate together! Send us an email at info@lynnquinlivan.com to ge a date on the calendar. We would love to see you and your birthday boy or girl in our studio! Click here to check out our children's portfolio.